FREE SHIPPING ON ALL U.S. ORDERS!
What is a High Collar Necklace? Everything you need to know!
Necklaces come in various shapes, sizes, and designs. They are categorized based on the length of the necklace chain. 
For example, a high collar necklace sits above the collarbones. These necklaces have been in use since ancient Egyptian times. They've made a comeback in recent times. Read on to learn more about high collar necklaces.  
What is a High Collar Necklace?
In the past times, the word "collar'' described all kinds of necklaces. However, each type was given a name to prevent confusion. Yet, people tend to mix up high collar and choker necklace styles. 
A high collar necklace rests against the skin directly above the collarbones. Its position matches the exact point where you button the collar of a shirt. Here's an easy way to identify a high collar necklace. 
It is 12 to 14 inches long 

It doesn't rest on the shoulders but sits on the collarbones or wraps around the neck 
Types of High Collar Necklaces 
High collar necklaces are available in different types. They are made with metals like silver and gold. Contemporary collar necklaces are thicker and pair best with low-cut tops. You don't need any other necklace to go with it. 
With Gemstones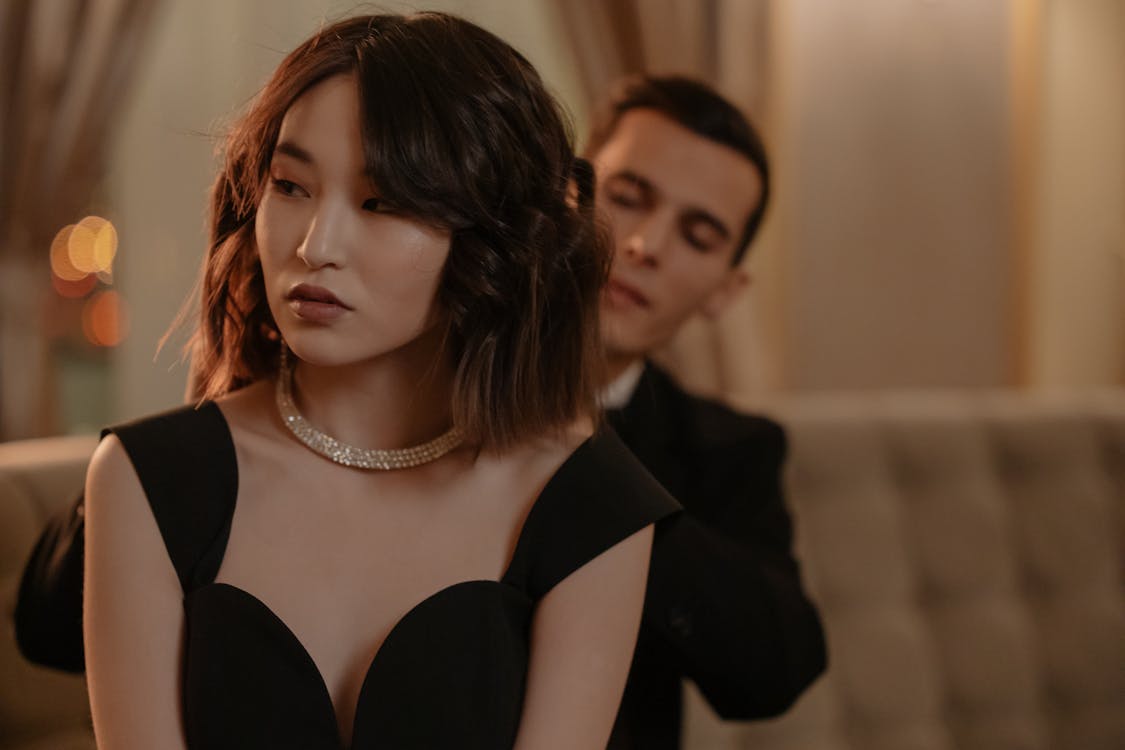 Gemstone-studded high collar necklaces are also popular. Diamonds, rubies, emeralds, amethysts, etc., are used to craft dazzling collar necklaces. 
Open Collar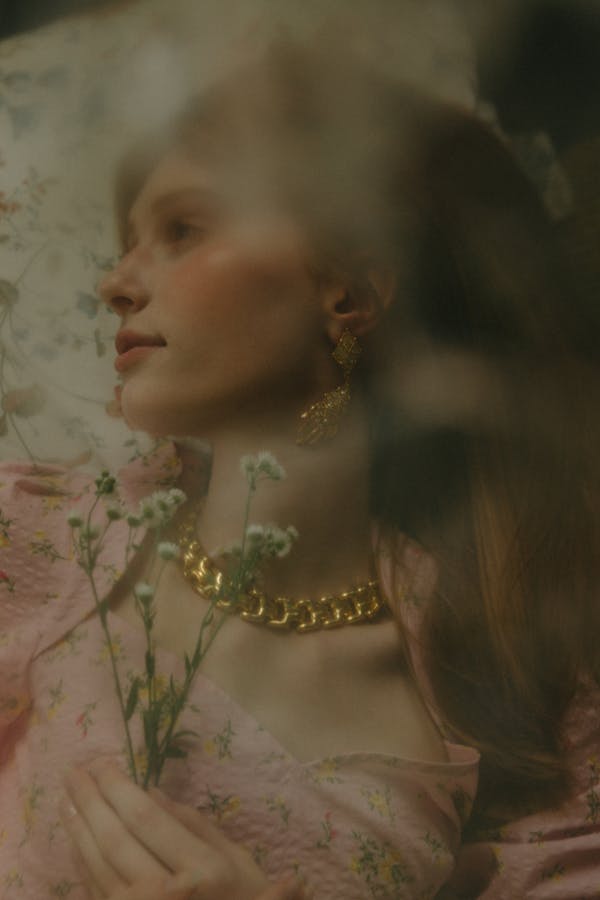 Open high collar necklaces are another type. Here, the necklace has a small opening at the front instead of being a closed loop or having a clasp at the back. These models come in a variety of styles. They can have a minimalistic design or be ornate and heavy. 
Chunky Collar 
Chunky high collar necklaces are also a fashion statement. These are made of metal, gemstones, or large beads. Uncut stones and angular beads are used to make chunky collar necklaces. You can wear them to formal, informal, and casual occasions. 
Why High Collar Necklaces Are A Trend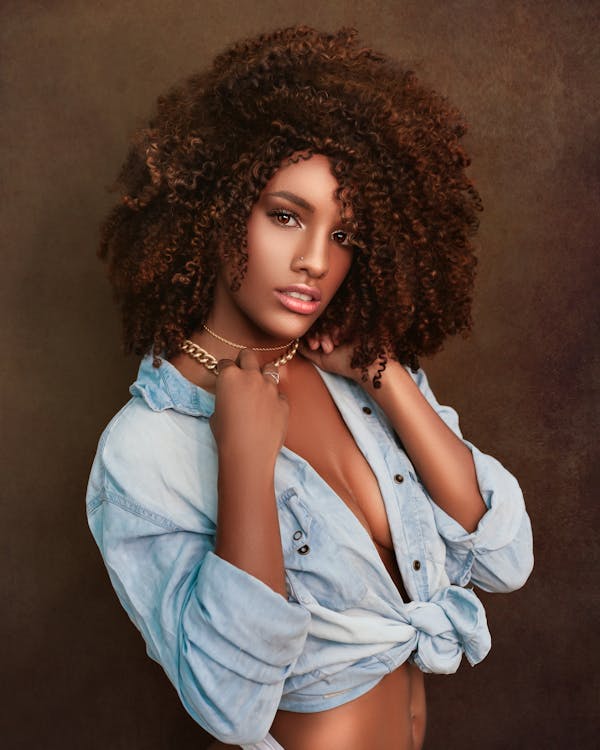 High collar necklaces are trending because of their versatility and style. The necklaces are suitable for all occasions and events. You can pair them with different outfits. 
Go for the classy look with a simple single-chain high collar necklace, or make a bold statement with a chunky, studded collar necklace. 
Butterfly Trend 
Butterfly high collar necklaces are a new trend in which the necklace features a butterfly as a pendant. This model has become popular with kids and teens. 
Two-Tone Trend 
The geometric two-tone link collar necklaces are another latest trend. These combine two metals, such as gold and silver (or platinum). The necklaces may or may not have gemstones. Two-tone high collar necklaces are paired with monotone outfits, especially colors that contrast the shades of gold and platinum. 
Ways to Wear High Collar Necklaces 
Though high collar necklaces are versatile, they work better with some types of outfits and necklines. For example, pairing a high collar necklace with a boat or crew neck can make your throat area look cluttered and mismatched. 
Here are a few ways to wear high collar necklaces with different outfits. 
Off-Shoulder/ Strapless 
Off-shoulder, strapless, low-cut, and sweetheart necklines are perfect for high collar necklaces. There is enough space between the necklace and the neckline to draw attention to both. You can make your collarbones stand out and draw attention to the chest. 
Open high collar necklaces with gemstones are suitable for simpler tops. A twisted band style is more appropriate for a colorful outfit. Keep the necklace plain if the neckline has sequencing or glitter and vice versa. 
Round Neckline 
Round necklines can work for high collar necklaces if you make a little extra effort. The neckline has to be deep and wide to allow a 1 to 2 inches gap between itself and the necklace. Also, the round neckline shouldn't have any collar as the necklace will act as one. 
Keep it simple in hot seasons. Go for plain metal or thin collar necklaces in minimalistic design. You can opt for warmer tones and gemstone-studded collar necklaces in cold seasons. 
Wide Neckline 
Wide necklines are a great choice for high collar necklaces. Choose a necklace with a pendant to add to the charm. You can pair it with studded earrings and leave your hair open. In fact, it works just as good when you pull half your hair up into a twist knot and leave a few strands around the face. 
The advantage of wide neckline tops is that you can experiment with the necklace styles. Simple, chunky, two-tone, and studded high collar necklaces work with wide necks. 
Button-Down Shirts 
Yes! High collar necklaces can be paired with button-down shirts. One way is to have an open collar with a top button removed. This will draw attention to your collarbones and cleavage. Pull your hair into a top knot to remove distractions. 
Another method is to close the collar of the shirt and wear the necklace over it. However, this method is suitable for chunky high collar necklaces. The color of the stones should match the top. 
High Collar Shirts 
It's not easy to pull off this look, but it can be done if you don't mind too many collars around your neckline. The trick here is to use metal collar necklaces with high collars and wear the necklace on top. Elaborate patterns match plain shirts. 
Complete the look with a patterned jacket or soft coat in winter. Go for thin chains with a couple of lockets if you want the necklace to blend with the high collar shirt.
Final Words
The range of high collar necklaces is amazing. You can find a style that suits the outfit and your taste. Note that patterned collar necklaces suit plain tops, while plain necklaces highlight printed and textured dresses. Check out the
collar necklaces on Bijou Limon
and add them to your personal collection.
Read more
✕