FREE SHIPPING ON ALL U.S. ORDERS!
The Color Code: What Color Jewelry goes with Green Dress?
Want to wear your favorite green dress for an upcoming event? Wondering which jewelry would match it the best? Some colors complement each other, while some look mismatched and awkward. 
For example, your green dress can make you stand out when paired with gold, red, or pink jewelry. Fortunately, green goes with a range of colors. Let's find out how to pair your jewelry with green dresses. 
Match Shades of Green and Jewelry Tones 
Before we get into the details, we'll divide green dresses into two broad categories. 
For Light Green Dress 
Light greens are mellow and lean towards yellow, lime green, light green, etc. These shades have a warm tone and should be paired with ivory or coral jewelry. Gold, diamonds, and pearl jewelry match light green dresses. 
For Dark Green Dress 
Dark greens are cool-toned and have shades closer to blue. Teal, dark emerald, and jade are some examples. These dresses look the best with rose gold jewelry, silver, and lilac-studded accessories. You can even opt for dark blue jewelry for a bold look.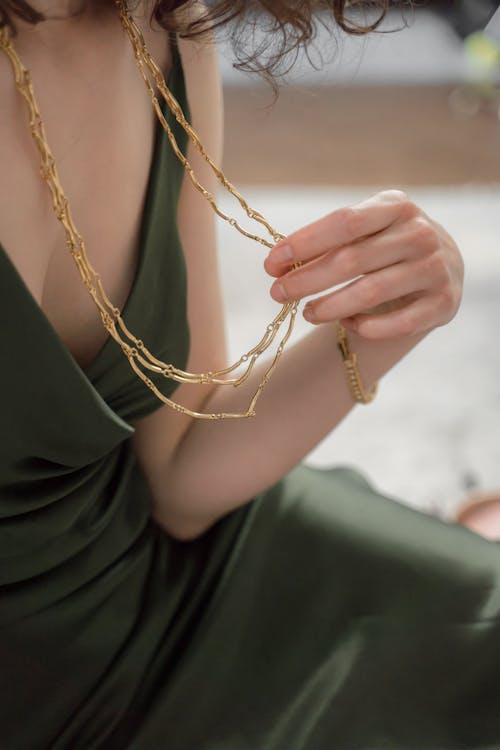 Which Jewelry Suits Green Dresses?
Green is a versatile color you can pair with most shades. However, choosing the right jewelry means you need to consider the shade of the dress, the design, prints, patterns, etc., along with factors like your skin tone, the season, the purpose of the event, and the time of day. However, the following jewelry matches green dresses on most occasions. 
Diamond Jewelry
Diamonds or white stones set in gold and silver can be paired with all shades of green dresses. You can opt for diamonds in rose gold or silver for dark green outfits and diamonds in gold with light green dresses. A diamond-studded pair of earrings or a bracelet can highlight your features and the green dress.  
Silver Jewelry
Silver jewelry is a classic option when you are confused about what to wear with your green dress. However, silver pairs better with dark green. For example, a silver necklace will look great with an emerald dress, but it won't match a lime green outfit.  
Stainless steel and platinum have a similar tone and match dark green dresses. That said, if the dress has gold or red colored designs/ patterns on it, don't pair it with silver. The colors will clash, making you appear mismatched. 
Gold Jewelry 
Gold is a neutral color that goes with almost any dress. It is a perfect combination for a green dress, be it traditional or modern. Furthermore, gold jewelry matches to light and dark green dresses. 
Opt for simple and minimalistic gold jewelry if the dress has elaborate prints or patterns. You can also opt for a matching pendant (of the print color, not green) to make a style statement. For plain dresses, wear chunky/ bold jewelry in gold to create a lovely contrast. The Bijou Boss Chain with a cubic Zirconia rhinestone clasp can help you ace the bold look.
Pearls 
Pearls pretty much go with all colors, and green is no exception. The best part is that pearls look cool with all shades of green. They create an interesting combination when paired with lime green and look stylish with dark greens. 
Pearl jewelry is also a great choice for formal events. You can choose between a single strand of pearls or multi strands, depending on the neckline of your outfit. A simple gold chain with a pearl pendant is another elegant option.  
Copper Jewelry
Copper jewelry is similar to silver and goes with darker greens. It is a strict no to pair copper with neon or fluorescent green outfits. The yellow undertones in light green dresses clash with copper shades. However, copper adds a warm hue to cool-toned dark greens and creates a balanced look. 
Green Gemstones 
This is a slightly tricky combination to pull off. As a rule of thumb, the green shade of the gemstones should match the shade of the dress for darker tones. Your jewelry won't stand out but will complement the dress and highlight it. 
Don't choose a green that clashes with the shade of our green outfit. Lime green gemstones may not look aesthetically pleasing with an emerald green dress unless the dress has a print or design in lime green (it'll look too weird).  
Which Color Jewelry to Avoid with Green Dresses? 
Some colors just don't pair well with green dresses. While there will be exceptions, it is safer to be cautious unless you are positive that the combination works for you. 
Pink, Red, & Scarlet 
Coral may be a decent choice, but pink (especially neon and hot pink) and red are not (unless your green dress has these colors on it). Red and green are on the opposite ends of the color spectrum and will have to be paired with a lot of care. Avoid mixing these shades to keep it simple. 
Rose Gold 
We've mentioned rose gold jewelry as an option for dark greens. While it is not the perfect colored jewelry, it can still be paired with your green dress. However, make sure that the jewelry is either plain or has only diamonds (clear gemstones). Other colored gemstones in rose gold will add too many shades to our outfit. 
Orange 
Orange falls between red and yellow, which makes it a no-no color for green dresses. The contrast will be a little too much for people to take in. The overall appearance will be too heavy and sharp, with little or no color coordination.  
Conclusion 
Finally, the jewelry you choose should complement your skin tone. What works for one skin tone may not work for another. Experiment a little in front of your mirror and go with what makes you comfortable and happy. Check out the bestselling jewelry on Bijou Limon to pair with your green dress for occasions. 
Read more
✕