FREE SHIPPING ON ALL U.S. ORDERS!
The Color Code: What Color Jewelry goes with Navy Blue Dress?
Navy blue is one color that is timeless and incredibly flattering on all skin tones. Besides, it also goes with a plethora of colors, textures, and undertones. So, styling it can often become overwhelming.
If you've picked a gorgeous navy blue dress for your upcoming special event and are wondering what jewelry to pair it with, you've landed in the right place.
Today we will discuss what jewelry to pair with a navy dress based on skin tones, occasions, vibes, etc.
So keep reading!
What Metals look best with Navy Blue Dress?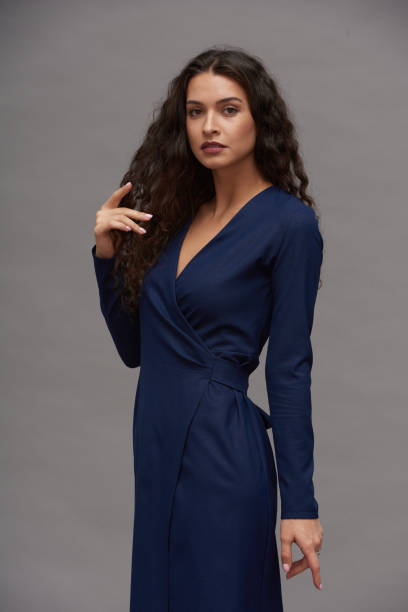 If you want to pick a piece of jewelry without jewels in it, then the go-to pair with a navy blue dress will be pure silver and gold.
Pure silver or white gold looks more subtle and muted, whereas gold stands out a little more because of its yellow tones.
According to the color wheel, yellow is placed right opposite blue, which makes them each other's complementary color. So if you want to highlight your jewelry, go for gold.
On the other hand, navy blue and silver both have a cool undertone. This is why pairing them gives a monochromatic effect. Therefore, if you want to draw everyone's attention to the dress, you can go for pure silver or white gold.
On that note, you can check out some chic and classy gold, and pure silver necklaces from Bijou Limon.
What Colored Jewelry to pair with a Navy Blue Dress?
You can even try pieces with jewels and colorful beads in them for a more avant-garde look. But for that, you must know what colors go with your outfit, or you will end up looking all over the place. And that's the last thing we want.
So here's a detailed guide to which colored jewelry to pick for a certain vibe.
1. For an Elegant Evening / Night Look
Champagne
Gold might clash with cooler undertones, but champagne has a muted gold hue. So it still contrasts with navy, yet isn't as glaring as yellow gold.
If you have an evening party or wedding to attend and don't want to draw too much attention, go for champagne-colored crystal studded jewelry. Champagne-colored crystals aren't very gleaming, so even if they are big, they won't look too much.
2. For a Hight Spirited Contrasting Day Look
Yellow
If you have a day event and want something that is bright and sunny, then go for yellow. Pieces of jewelry with accents of bright yellow (stones, enamel beads, etc.) help balance the dark and sophisticated look of navy blue and make it more upbeat.
Coral
If you don't want something too bright like yellow, but still want jewelry that looks vivacious with navy blue, pick coral.
Coral also contrasts dark blue, just like yellow, according to the split complementary color scheme. So it will be a perfect choice if you aren't a big fan of yellow.
3. For an Effortless Chic Look
Fuchsia
Fuchsia may look like a contrasting color, but if you look at the color wheel, you'll find blues transitioning into pinks. This means they give a look that seems very well thought out when put together.
Fuchsia may look very bright on lighter skin tones, but the combination of Fuchsia and navy blue is so well-balanced that it flatters every skin tone.
Lilac
If Fuchsia is still very bold for you, then the next best option would be lilac. It's more subtle and perfect for a night look. But make sure that lilac is paired with silver, or else the undertones will clash, and the look will be a disaster!
4. For a Classy Monochromatic Look
Turquoise
Now, if you don't go with the idea of contrasting and want more of a monochromatic look, then go for turquoise. The color is very much on trend right now and is perfect for adding that groovy touch.
Again, make sure the turquoise jewels or beads are mounted in silver!
Mint
Mint is a fresh and classy color itself, and when paired with a darker shade like navy blue, it pops even more.
The color looks great in the daylight, so it will suit you perfectly if you're going for a day look. Plus, you don't have to care about the metal it's wrapped in. Mint goes great with both gold and silver.
Lime Green
This will be the best pick if you are planning a spring look. It's actually hard to say whether lime green is contrasting or complementary. But whatever the case may be, it looks gorgeous.
Again, lime green goes with gold, silver, and even bronze, so picking the right metal is no hassle!
Pearls or Crystals, What complements Navy Blue Dress better?
Now, this is a tough question, and the answer entirely depends on what your vision is.
From Princess Diana to Marilyn Monroe, you'll find some of the greatest fashion icons to favor pearls for a reason! And that is because pearls are ageless, royal, and elegant.
On the other hand, crystals give you a variety. There's a lot to choose from, like color, cut, and luster. Some even carry unique granitic patterns. So if you want to experiment and go bold, then crystals and stones will be the choice.
Wrapping Up
Now that you have acquired enough knowledge to style a navy blue dress in a hundred different pieces of jewelry, it's time for you to put it all together.
In case you don't have the right piece of jewelry to nail that look you're thinking about, check out our Bijou Limon store. From pearls to crystals, we have it all, So hurry up!
Read more
✕