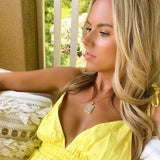 Greek Key Necklace - Hollow
Item is in stock
Hurry! Low inventory
Item is out of stock
Item is unavailable
The Greek Key Necklace- enjoy having an authentic example of the Greek Key Design which was commonly used in Georgian jewelry. Also known as meander, the twisting and turning path of the Maeander River in Asia Minor.
Meander was the most important symbol in Ancient Greece, symbolizing infinity or the eternal flow of things. Many temples and objects were decorated with this motif, and it is considered that there is a connection with the Cretan labyrinth – a labyrinth can be drawn using a Greek key.
Gold plated Silver Pendant from Greece and gold-filled chain. 
---
Greek Key Necklace - Hollow